By Olivia Tushingham

We could all use a little help from time to time - particularly when at the start of a new career.
It's therefore so useful to have access to such a wealth of resources on the internet of the dos and don'ts of the PR world. I was pointed in the direction of a useful E-Book, written by media relations coach Michael Smart, alongside PR Management platform, Muck Rack. They recently released an informative and amusing e-book, collating 33 month's worth of 'Bad PR Pitch' tweets from disgruntled journalists.
Their message was clear: when it comes to PR Pitches to journalists, there isn't necessarily a right or wrong, but there certainly is a better way of going about them.
I couldn't help but chuckle reading some of their captured tweets: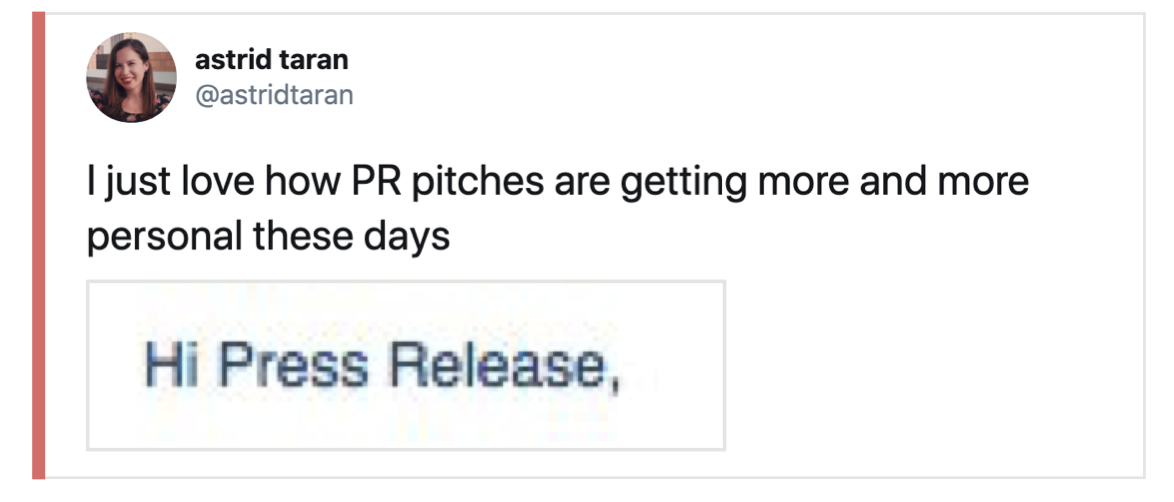 Despite the comical side to the Tweet collection, the point wasn't to poke fun. Instead, it provides valuable mistakes which can be learnt from.
Here are the top five key points I took away from the E-Book:
Relevance is
key
It might seem obvious, but no one wants to receive a generic email about something they have no interest in. It's definitely worth taking the time to tailor pitches to those with genuine interest, rather than sending out a generic 'blast' email.
"We are guests in journalists inboxes
and want to be invited back"
Whilst it would be nice to receive a yes or no answer to every PR Pitch we send, people have busy lives, there's no point sending a passive aggressive follow up email if you want any chance of receiving a response.
Its great to talk about the latest big news ...
but only if it's relevant to the journalist
There is no point making the same small talk as everyone else if it's not going to appeal to those reading.
Don't overuse the
exclamation mark
Something that many of us are guilty of (particularly me), but sometimes, a plain old full stop will do.
Get the name
right
Again, an obvious one, but misspelling the journalists name is an easy (and common) mistake to make that might lose their interest from the very first line.
Want to find out more? Take a look at the e-book here:
https://f.hubspotusercontent40.net/hubfs/4272994/A%20guide%20to%20journalists%20biggest%20pet%20peeves%202020.pdf
For more tips advice on the worlds of public relations, read more on our Knowledge Hub, and follow Lionbridge PR on LinkedIn. We are also always around to help your business with PR and more, simply email us at info@lionbridgepr.com.